Talker
---
Name
Talker: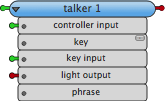 Description
Talkers are the agents which add control keys to the eigenharp keyboard, and when these keys are pressed the talker will 'say' a belcanto phrase. Any phrase that you can type in using the eigencommander or with the language keys can be added to a talker.
One talker agent can contain several control keys, you don't need a new talker for every new key.
Ports
Key input
The key input is used in the main to receive key signals from an upstream Agent.
Controller input
The controller input is used to pass on information that changes infrequently and usually carries configuration data from an upstream Agent, for instance Keygroup octave, tonic, scale, mapping, ...
Light output
The light output is a connection made against the normal flow of signals to send data back to the Keyboard Agent to determine which LEDs should be lit at the appropriate time.
Keys
Talker Belcanto phrases are always tied a particular key on the keyboard.
Each key has a dedicated 'activate' port that is understood by clients like Stage to trigger the activation of the key as if it was physically pressed on the keyboard.
Nouns
None
Verbs
None
Examples
Detailed examples can be found during the seminar about Talkers and Controllers, however these examples apply only to the 1.4 and earlier versions of eigenD.
See also